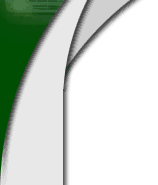 LPT - La Porte Transit Company, Inc., is a Class 2 carrier based in La Porte, Indiana. One terminal hub provides you with access to most points in the Great Lakes States.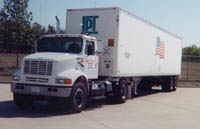 When we looked at deregulation we decided that the way to remain viable was to become the very best carrier in a more focused business - call it a niche if you like. We made the changes that allowed us to control our own destiny, improving operations while maintaining the personal service that has been our standard for over 45 years. The fact that we're thriving 20 years later tells us that out customers feel we made the right decisions. In fact - they vote every day on how we're doing.

The ideal distribution center and freight consolidation point for major midwest markets.

La Porte, Indiana is ideally situated for distributing your freight between major midwest cities like Chicago, Grand Rapids, Detroit, Indianapolis and Milwaukee. Local customers as well as national firms have found that La Porte Transit is the solution to freight distribution problems in this four state area.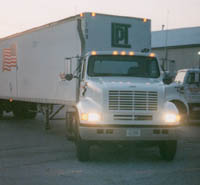 A 99.7% on time delivery record assures you that critical items will arrive when needed.

Your freight is handled at only one terminal, so overnight service is available for most sites on the LPT Points List. The current on-time rate is 99.7%. Even withwinter storms, LPT has consistently maintained an on-time delivery rate above 99%.

Tiny .0006 claims rate assures you of hassle free service.

While accidents do happen, they happen rarely when you give your freight to LPT. La Porte Transit claims have consistently remained between .0004 and .0010, well below the .5% rate considered standard by most customers.

Customer service information available throughout the day.

From the start of the business day, until well after midnight, customer service represenatives are on hand to provide immediate answers to most of your questions. Shipment information is available down to the approximate time of delivery. In emergencies your driver can be reached via radio or cellular phone equipment installed in every truck.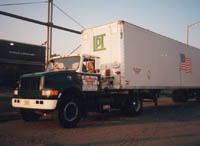 Interline service discontinued in 1980.

This move immediately reduced claims and gave LPT better control of freight transported.

Dropped freight bureau memberships in 1982.

In addition ro eliminating bureaucratic hassles and delays, this change has enabled LPT to work directly with customers in setting rates that are fair for their businesses.

Developed complete maintenance capabilities.

Strict maintenance procedures help ensure that LPT equipment lasts longer and breaks down less often than industry averages. In addition, wreckers and back-up vehicles are ready so that service can be continued in case of equipment breakdowns.

Increased driver training.

LPT drivers do more than drive. They help load and unload your freight. Training starts with work in the terminal where experienced drivers demonstrate LPT handling and efficiency procedures.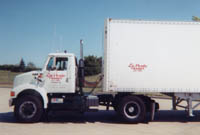 Experience working with many industries.

LPT handles a wide variety of freight to include the following: pharmaceuticals, healthcare products, books and other publications, control and switching equipment, electrical and electronic components, paper products and business forms, wire and cable, plastics and laminate.

Personalized, no hassle, service for the Great Lakes States.

Your freight is checked and counted four times during transit to ensure it reaches you in perfect order.
Since customer service personnel have direct access to operations, most of your questions can be answered immediately.
Many customers have been with us for 10-15 years because they can depend on overnight service and a 99.7% on-time delivery record.
Trailers and entire terminal are heated in the winter to safeguard your shipments. Drivers are familiar with your needs and make sure that vehicles are warm before picking up temerature sensitive freight.
All vehicles are equipped with either cellular phones or radios so that they can be reached for emergency pick-ups and routing changes.
Operations and customer service work closely so that they can make arrangements when a shipment requires special handling - like extra insulation for pharmaceutical shipments.